TOWN OF UNICOI CALENDAR OF EVENTS
Check out the events calendar for all the activities going on in the

Town of Unicoi.  It's a great way to stay up to date with annual events and anything going on in the area. 

If you have an event you would like to add to our calendar.   

Please contact Tina "MK" Wilcox at 423.743.7162 or 

tinawilcox @unicoitn.net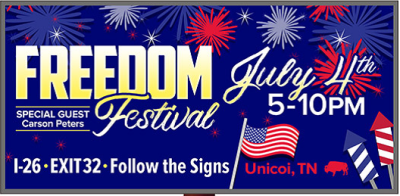 The festival is held on the ball field at the Unicoi Elementary School

(404 Massachusetts Avenue Unicoi, Tennessee) from 5 p.m. to 10 p.m.

Food, musical entertainment, and a huge display of firework at dark.

Each year hundreds of local residents and visitors join together to celebrate our nation's birthday by enjoying the many events and activities of the Town of Unicoi Freedom Festival. More than 3000 area residents and visitors attend the Freedom Festival each year. The Freedom Festival begins at 5 p.m. and culminates with the annual Celebration of Freedom Fireworks at dark.
Sponsored by: Carl Jones, Jones & Church Tomato Farm 
Special Guest: Carson Peters 

Check out!

June 30th - July 3rd

The New Lamar digital signs in Johnson City 
​
*
Boones Creek Hwy 36 Greene Rd.
*
N. Roan St. Hwy 11E [Honda] 
*
W. Market St. @ John Exxum 
*
W. Market St. McKinley Church Rd.